ORTHOPEDIC CONDITIONS
Living in a hectic and busy city like Hong Kong, suffering from different degrees of back pain, knee pain and neck pain seem unavoidable for people of all ages. Office workers often have to work overtime and maintain the same posture when using computers while the younger generation loves playing online games with their smartphones or tablets for a prolonged period of time every day. All these lead to overuse and early degeneration. In addition, over-weight, insufficient exercise and incorrect postures make people more vulnerable to back and neck pain, lifestyle diseases and different kind of pain conditions.
To prevent the problems from getting worse, consult your physiotherapists. Our physiotherapists can assess and suggest suitable treatments to relieve pain and prevent recurrence.
Common disorders:
Neck pain & referred arm pain / cervicogenic headache
Back pain & sciatica
Tendinitis E.g. tennis elbow, golfer's elbow, plantar fasciitis.
Frozen shoulder
Carpal tunnel syndrome
Trigger finger
Knee pain and degeneration
Ankle sprain
SPORTS INJURIES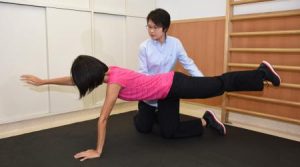 With the growing awareness of the importance of health, an increasing number of people are taking up regular sports activities. Sports Physiotherapy is a specialized branch of physiotherapy that deals with injuries related to sports. Physiotherapists will tailor-make treatments and rehabilitation plans according to the sporting activity the patient participates in, his/her level of participation and the physical fitness requirement of the specific sport. This will help facilitate the recovery, allowing patients to enjoy sports again. In addition, physiotherapists will use taping technique and design rehabilitation protocol to avoid recurrence.
Common sports injuries include:
Rotator cuff injury
Back sprain
Spinal disc herniation
Hamstrings strains
Knee ACL sprain or reconstruction / Meniscus tear
Ankle sprain
ORTHOPEDICS POST-OPERATIVE REHABILITATION
After surgery, patients need to receive physiotherapy rehabilitations to lower the risk of complication and to facilitate recovery. Our physiotherapists will tailor-make rehabilitation plans and monitor conditions to ensure full recovery.
Common Orthopedics Post-operative conditions:
Fractures
Knee ACL Reconstruction
Total Knee Replacement
Carpal Tunnel Syndrome
Shoulder SLAP Lesion
TAILOR-MADE ORTHOPEDIC IN-SOLES

In addition to physiotherapy treatments, we also provide tailor-made in-soles services for patients suffering from biomechanical problems, such as flatfoot and high arched foot. When the foot arch or foot alignment is deformed, it exerts excessive pressure on the tissues and ligaments of the foot, causing inflammation and pain. Plantar fasciitis and Achilles tendinitis are common disorders resulting from these problems. Our Podiatrist provides consultation with the patients and has in- soles tailor-made for them to enhance the support to relieve the pain.
HEALTH SEMINAR
In order to raise public awareness towards general health knowledge, we host seminars to help you understand the cause and influence of different injuries, learn how to handle different situations and preventive measures. These include:
Joint pain and care
Lifting and transfer skills for care takers
Treatment and exercises for neck pain, shoulder pain, back pain and leg pain
EXERCISE WORKSHOP

To encourage people to maintain regular exercise to build up muscle strength to prevent pains and injuries, and to have a balanced lifestyle, fun and engaging fitness classes (conducted in Cantonese) are organized. Join us and keep fit!
Fitball class
Exercise Band class
Stretching class
KINESIO ® TEX TAPING WORKSHOP
Kinesio ®  Tex taping is widely used in sports injury and orthopedic conditions. Understanding the cause of injury is the key to apply Kinesio ®  Tex effectively. In the workshop, we will correlate the injury mechanism, with proper and effective way to apply Kinesio ® Tex, in order to enjoy maximum benefit of the Kinesio ®  Tex. Participants will have hands-on experience in the workshop.
The Kinesio ® Tex taping method developed by Dr. Kenzo Kase over 30 years ago, has been widely used in the rehabilitation and sports medicine world. The method of taping uses a uniquely designed and patented tape for treatment of muscular disorders.
The Kinesio ® Tex taping method involves taping over and around muscles in order to assist and give support or to prevent over contraction. The first technique gives the practitioner the opportunity to actually give support while maintaining full range of motion, enabling the individual to participate in physical activities with functional assistance. The second technique helps prevent overuse or over-contraction and helps provide facilitation of lymph flow 24 hours a day. It is most commonly used in the acute stage of rehabilitation.
Correctional techniques include mechanical, lymphatic, ligament/tendon, fascia, space, and functional. All these methods allow individuals to receive therapeutic benefits 24 hours a day as it can be worn for several days per application.
Here are some conditions Kinesio ® Tex taping method could be applied:
Tennis elbow
Anterior knee pain
Back pain
Swelling area after an acute injury
Copied with permission from Kinesio Hong Kong
DOMICILIARY PHYSIOTHERAPY
Some patients may not be able to visit the clinic in person, such as those who are recovering from stroke. Our clinic can provide home physiotherapy services. Our physiotherapists will bring simple equipment to the patient's home and provide necessary treatments to speed up the recovery. Please contact us for further information.